Top 10 Flight School
The Aircraft Owners & Pilots Association (AOPA) named AeroVenture a top flight school in the U.S.
Local Family Owned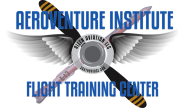 We are a family-owned and operated Part 61 Flight School located in Central Massachusetts
Learn More!
Top 25 Instructor
The AeroVenture Institute (AVI) is home to one of the Top 25 Flight Instructors in the U.S.
Love is in the air, come capture it at the AeroVenture Institute this February with a special introductory flight for you and your loved one. Complimentary rose and box of chocolates will be included!