Top 10 Flight School
The Aircraft Owners & Pilots Association (AOPA) named AeroVenture a top flight school in the U.S.
Local Family Owned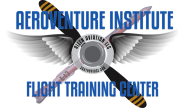 We are a family-owned and operated Part 61 Flight School located in Central Massachusetts
Learn More!
Top 25 Instructor
The AeroVenture Institute (AVI) is home to one of the Top 25 Flight Instructors in the U.S.
RECEIVE 10% off your purchase of a Discovery Flight or TOP GUN Package Gift Certificate between Nov. 28 and Dec. 25 using discount code BLACK FLYDAY at checkout!