Best Flight School
The Aircraft Owners & Pilots Association (AOPA) named AVI in 2015 the best flight school in the U.S.
Aviation + Aerospace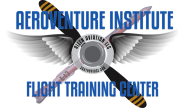 We are a unique Part 61 Flight School and Aerospace Learning Center located
throughout Massachusetts & Online
Learn More!
Top 10 Instructor
The AeroVenture Institute (AVI) is home to one of the Top 10 Flight Instructors in the U.S.
Do you feel the need for speed? Become the next high flying ace with our exciting TOP GUN Flight Training Experience, now 20% off until December 24th!