Best Flight School
The Aircraft Owners & Pilots Association (AOPA) named AVI in 2015 the best flight school in the U.S.
Aviation + Aerospace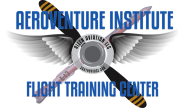 We are a unique Part 61 Flight School and Aerospace Learning Center located
throughout Massachusetts & Online
Learn More!
Top 10 Instructor
The AeroVenture Institute (AVI) is home to one of the Top 10 Flight Instructors in the U.S.
Enrollment for the Summer 2016 Aeronautics Courses is now open! APPPLY TODAY! AVI's summer Space Science courses will be announced in March.